Avis Campbell Gardens
60 S. Fullerton Ave., Montclair
973-746-9614
The Avis Campbell Gardens recreates superb English-style gardens.
Bamboo Brook Outdoor Education Center
170 Longview Rd., Far Hills
973-326-7600
Once the home of Martha Brooks Hutcheson, one of the first American female landscape architects, these 100 acres include fields, woodlands and formal, yet naturalistic gardens which demonstrate classic design principles using a palette of primarily native plants.
www.morrisparks.net
Lewis L. Barton Arboretum
1 Medford Leas Way, Medford
800-331-4302
The Lewis W. Barton Arboretum at Medford Leas offers collections of rare trees and shrubs, preserved woodland areas, meadows and 33 uniquely designed courtyard gardens. Open to the public from 9 am to dusk year round at no charge.
www.medfordleas.org
Branch Brook Park
Lake St. & Park Ave., Newark
973-268-3500
One of New Jersey's greatest hidden treasures can be found in Newark's Branch Brook Park, which boasts the biggest collection of cherry trees anywhere in the world. Visitors flock to the park each spring to view the reddish-pink large white blossoms.
newark1.com/branchbrook
Leonard J. Buck Garden
11 Layton Rd., Far Hills
908-234-2677
Leonard J. Buck Garden is a 29-acre rock and woodland garden developed by its namesake during the mid-twentieth century. The garden features naturalistic plantings of native wildflowers, shade perennials, ferns and rock garden plants.
www.somersetcountyparks.org
Cora Hartshorn Arboretum
324 Forest Dr. S., Short Hills
973-376-3587
The Cora Hartshorn Arboretum is a 16.5 acre green oasis, home to more than 45 species of trees, 150 species of wild flowers and 100 species of birds. The Arboretum's emphasis on native species includes majestic trees, rare ferns and wildflowers. More than three miles of trails are open to the public year round. Multi-age classes are also offered at the center.
www.hartshornarboretum.com
Deep Cut Gardens
352 Red Hill Rd., Middletown
732-671-6050
Deep Cut Gardens is dedicated to the home gardener and provides help and information. The 54 acres of gardens and greenhouses are planned as a living catalog of cultivated and native plant materials to be observed through the seasons.
www.monmouthcountyparks.com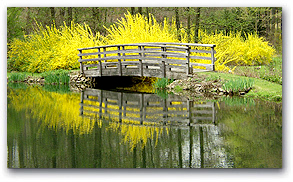 Duke Farms Foundation
80 Rt. 206 S., Hillsborough
908-722-3700
Duke Farms has announced an expansive and bold new vision for the 2,740-acre property, in which it will refocus its programs and operations to become an environmental showcase and learning center.
www.dukefarms.org
Frelinghuysen Arboretum
53 E. Hanover Ave., Morristown
973-326-7600
This 127-acre facility includes a Colonial Revival home on the National Historic Register, many nature trails, themed gardens, plant collections, an art gallery and gift shop. Year round classes for all ages and a horticultural reference library make The Frelinghuysen a regional center for horticulture.
www.arboretumfriends.org or www.morrisparks.net
Greenwood Gardens
274 Old Short Hills Rd., Short Hills
973-376-3587
Greenwood Gardens, once a grand estate of croquet terraces, tea houses and fountains enjoyed by a lucky few, is now a 28-acre garden open for guided tours, horticultural workshops and cultural events. Owned and operated by a nonprofit organization working to forward conservation throughout the region, Greenwood is a secret garden just waiting to be discovered by you.
www.greenwoodgardens.org
Grounds For Sculpture
18 Fairgrounds Rd., Hamilton
609-586-0616
One of the state's most unique gardens is the Grounds for Sculpture. The 35-acre garden blends the meticulously groomed grounds with exhibits of both well-known and emerging contemporary sculptors to create a sculpture park.
www.groundsforsculpture.org
Holmdel Arboretum
4000 Kozlowski Rd., Freehold
732-842-4000
The Holmdel Arboretum featuring hundreds of species of cultivars (species derived by a horticultural process, as distinguished from a natural variety). The Arboretum has an educational and horticultural display devoted to trees, shrubs and woody plants growing in Monmouth County.
www.monmouthcountyparks.com

Jay Pratt Azalea Gardens
Country House Rd., Sharptown
For Azalea lovers, the first rate Jay Pratt Azalea Gardens in Sharptown features more than 400 varieties cultivated on private lands. The gardens are open for viewing in May.
Leaming's Run Gardens
1845 Rt. 9 N., Swainton
609-465-5871
The largest annual garden in the U.S. Leaming's Run celebrates nature's beauty with 25 individually designed and expertly crafted gardens in harmony with the pristine native woodland setting. Each visit is unique with even changing vistas throughout the season.
www.leamingsrungardens.com
New Jersey State Botanical Garden
1304 Sloatsburg Rd., Ringwood
973-962-7527
Once known as Skylands Farm, an estate in the grand manner, this 96-acre garden features a 44-room Tudor Revival granite mansion designed by John Russell Pope. Skylands has formal and naturalized gardens and is surrounded by more than 1,000 acres of meadows and woodlands containing approximately 5,000 species and varieties of trees, shrubs and flowers.
www.njbg.org
Reeves-Reed Arboretum
165 Hobart Ave., Summit
908-273-8787
Reeves-Reed Arboretum is comprised of a historic home, restored formal gardens, greenhouse and woodlands. Its mission is to provide horticultural and environmental education and to foster the enjoyment of nature through professional care and preservation of the property.
www.reeves-reedarboretum.org

Rutgers Gardens
Cook College/Rutgers University
112 Ryders Lane, New Brunswick
732-932-8451
This 50-acre garden opened in the 1930's as a series of teaching collections in currently being re-designed to serve both students and the community. Included are shrub, annual, perennial, mixed border, rhododendron, evergreen and bamboo gardens. Adult education classes, tours, special events and rentals are offered.
www.rutgersgardens.rutgers.edu
Sayen Botanical Gardens
155 Hughes Dr., Hamilton
609-890-3543
Sayen Gardens is a beautiful attraction throughout the spring. Filled with azaleas and rhododendron brought from China, Japan and England they highlight a collection of colorful blossoming species providing a feast for the eyes. The gardens hold some 2,000 azaleas and 1,500 rhododendrons of hybrid and native species.
www.sayengardens.org
Sister Mary Grace Burns Arboretum
Georgian Court University
900 Lakewood Ave., Lakewood
732-987-2373
Sister Mary Grace Burns Arboretum is located on the campus of Georgian Court University. Its 155 acres contain a good collection of native plants of the New Jersey Pinelands. Many kinds of oaks and pines, well adapted to this unique ecosystem are contained in its collection and may be viewed along its nature trail.
www.georgian.edu/arboretum
The Presby Memorial Iris Gardens
474 Upper Mountain Ave., Upper Montclair
973-783-5974
The Presby Gardens features a collection of more than 4,000 varieties of world-famous irises, some dating back to the 1500's. The Gardens also boasts an unmatched array of well-known and rare irises, which has earned it National Historic Site designation.
www.presbyiris.tripod.com
Van Vleck House & Garden
21 Van Vleck St., Montclair
973-744-4752
Van Vleck House & Garden is dedicated to preserving for public enrichment, the spirit and beauty of this late 19th and early 20th century house and gardens. Continuing the Van Vleck family's commitment to the community and to horticultural excellence, the house serves as a center for nonprofit organizations and the gardens are open to the public for display, education and research.
www.vanvleck.org

Wagner Farm Arboretum
197 Mountain Ave., Warren
Currently in development, the Wagner Farm Arboretum plans to open in 2007. It is dedicated to the environmental and horticultural education of children and adults through the collection, study and display of trees, shrubs, flowers and other plant life in order to promote community involvement and environmental awareness.
www.wfafnj.org
Wallbridge Rose Garden
Taylor Park, Millburn
973-564-7058
For rose lovers there's the Wallbridge Rose Garden in Millburn.
Well Sweep Herb Farm
205 Mount Bethel Rd., Port Murray
908-852-5390
The farm features a multitude of herbs and perennials, display gardens and gift shop. The shop is filled with an assortment of dried flowers, wreaths, statuary, hard-to-find potpourri supplies and unusual gifts for all ages. The farm also has high-quality plants and a broad selection of craft, garden, plant and medicinal herb books.
www.wellsweep.com
Willowwood Arboretum
300 Longview Rd., Chester Township
973-326-7600
More than 3,500 kinds of native and exotic plants may be seen at this 134-acre property, which includes a Federal style residence, circa 1783. Collections include lilacs, hollies, magnolia and viburnum. The arboretum is home to many Champion trees, an assortment of garden statuary and a small jewel-like conservatory, Willowwood is a plant lover's dream.
www.morrisparks.net
Some Garden Statistics
Collectively, these gardens offer visitors more than 3,250 acres of biological diversity and beauty. More than a half million guests enjoy New Jersey public gardens annually. And more than 250 programs and special events provide year round education and entertainment at New Jersey's public gardens.